How can I play field hockey professionally
Mini hockey
In the mini-age we lay important foundations for later development. That is why we playfully train things that promote coordination, speed and agility.
- Jovanka Stojnic /// Head of Mini-Hockey
Questions and answers about mini hockey
who, how, what & why?
At what age does it start?
We offer our mini hockey (U6) for children aged four, five and six years at. For the summer season 2021 these are the years 2015, 2016 and 2017.
What do we do with the kids?
We prepare your children for their future "hockey careers". Our most important goal is: the minis should fun to have!
In each training session, we primarily want to convey fun in movement, but at the same time playfully promote coordinative skills, speed and flexibility as an important basis for the general motor development of children. Catching, running and relay games as well as gymnastics and balance exercises are therefore an integral part of every training session.
Of course, the children also always pick up the hockey stick to learn basic hockey-specific techniques such as receiving, releasing and guiding the ball. The following applies: the older the boys and girls get, the more exercises with the hockey stick are added - and of course the first "real" hockey games at some point.
Where and when does the training take place?
We train twice a week on our club premises - in the Summer season exclusively on our artificial turf pitch, in the Winter season also once a week in our club's own hockey hall. Girls and boys each train together.
The summer season starts after the Easter holidays and continues until the autumn holidays. The winter season starts after the autumn holidays and continues until the Easter holidays. There is no training during the school holidays and on public holidays.
Current training times
SATURDAY
Group 1: 9.45-11.00 a.m.
Group 2: 11.15 a.m.-12.30 p.m.
Training location: MSC artificial turf

Does my child need special equipment?
No, first of all no special purchases are necessary!
A hockey stick for the first "sniff" is provided by the MSC. Otherwise the children wear normal sportswear and shoes. You just have to make sure that you have clean indoor sports shoes in winter and no football cleats in summer.
If your child enjoys hockey, the following equipment should be purchased:
Hockey stick (approx. 25-30 euros)
Shin guards (approx. 15-20 euros)
Face mask (approx. 5 euros)
Everything you need to play hockey can be purchased in our club's own shop.
How expensive is the mini training?
For the Summer season (after the Easter holidays up to the autumn holidays) the training fee is 100 euros.
For the Winter season (after the autumn holidays up to the Easter holidays) as well - but here there is an additional hall usage fee of 60 euros. Overall, the training fee for the winter months is therefore 160 euros.
Do the minis have hockey games too?
Clear. Even our little ones play "real" hockey games.
We take part and visit the association-organized games with several mini-teams Tournament game days, where mini-teams from other clubs from Cologne and the surrounding area are played.
In addition, we also organize various internal club tournaments such as the Nikolaus or Carnival tournament (in costume of course), in which our minis play. The highlight here is certainly the annual one Generation Cup (always on the first weekend after the summer holidays), where our minis compete against their parents and show how well they can already play hockey.
Who is "tormenting" my child?
The mini-training is carried out by our trainer Jovanka Stojnic organized and managed. There are also a large number of co-trainers - mostly girls and boys from the older MSC youth teams.
In principle, only children who (a) have the Registration form for the corresponding training season (Summer / winter) or (b) in advance to "Sniff" have been announced (a maximum of 4x training units, after which the training fee applies).
Unfortunately, due to the current official requirements, no further registrations for mini hockey can be accepted in the summer season 2021. All participant places are taken.
However, "sniffing" is still possible. To register for this and / or if you have any questions about mini hockey, please contact our trainer Jovanka Stojnic:
Mail: [email protected]
Phone: 0162-4054040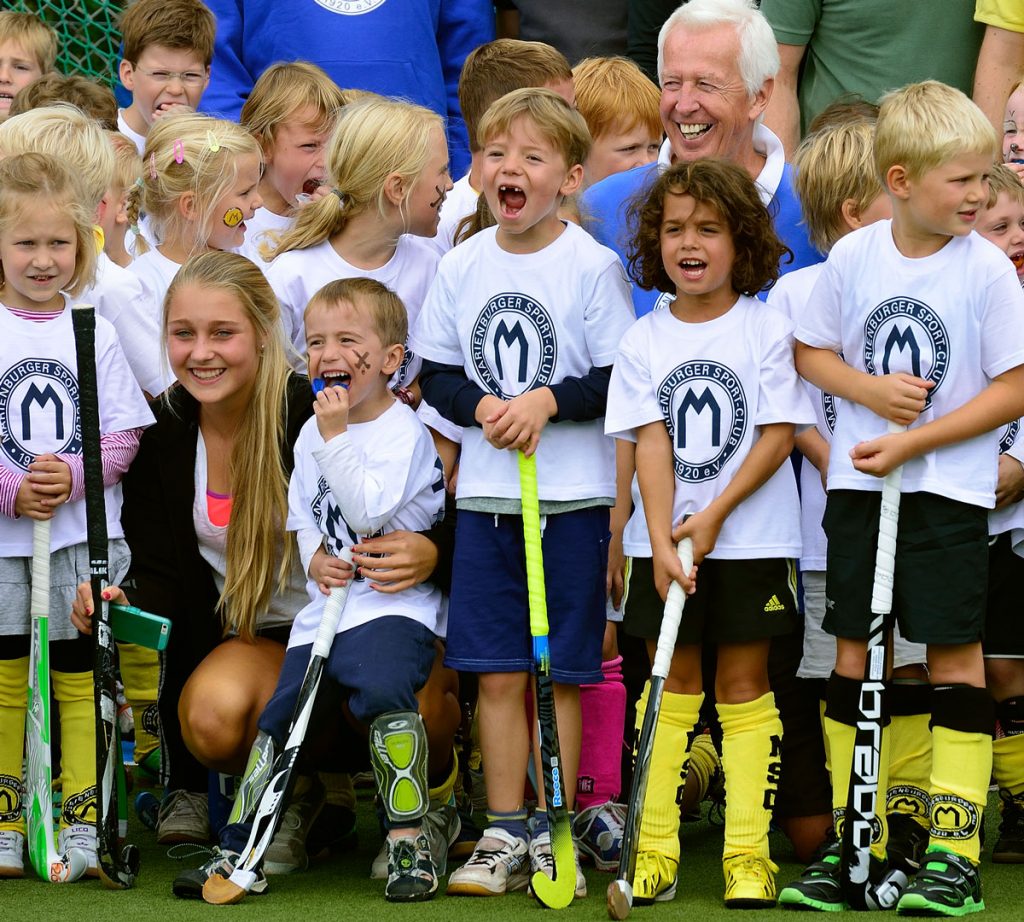 Photos: David Urban, © All rights reserved.